Japanese-made Hardware & Software. PCB prototyping systems. MITS has a wide range of product lineup including FP-21T Precision, world only desktop PCB milling system.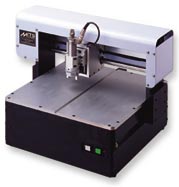 MITS Japan - PCB prototyping Tools
FP-21T is suitable not only for typical PCB prototyping but also for processing thin materials, various hard and soft materials
Working area - 350 x 250 mm; Maximum thickness of the substrate board - 30 mm.
PCB Made with a MITS machine